MINOAR POP UP EVENT
berlin, germany
09 oct - 14 oct 2023
archive sample sale & collection exhibition
JAKUB KUBICA | MACHINE LIGHT
Minoár is thrilled to invite you to the first Pop Up store in Berlin, Germany starting 9th October 2023 5:00 CET. For 6 straight days visitors will discover newest collection, archive & sample pieces all with special prices up to 70% off during the event.

A temporary store featuring interior designers Jakub Kubica and Machine Light exhibiting a range of objects available for sale during the event.
MONDAY / OCT 9 – 5PM-8PM CET – OFFICIAL OPENING
TUESDAY / OCT 10 – 11AM-8PM CET
WEDNESDAY / OCT 11 – 11AM-8PM CET
THURSDAY / OCT 12 – 11AM-8PM CET
FRIDAY / OCT 13 – 11AM-8PM CET
SATURDAY / OCT 14 – 11AM-8PM CET
*SIGNATURE MINOAR GIFTS FOR THE FIRST 44 VISITORS
*CARD PAYMENTS ACCEPTED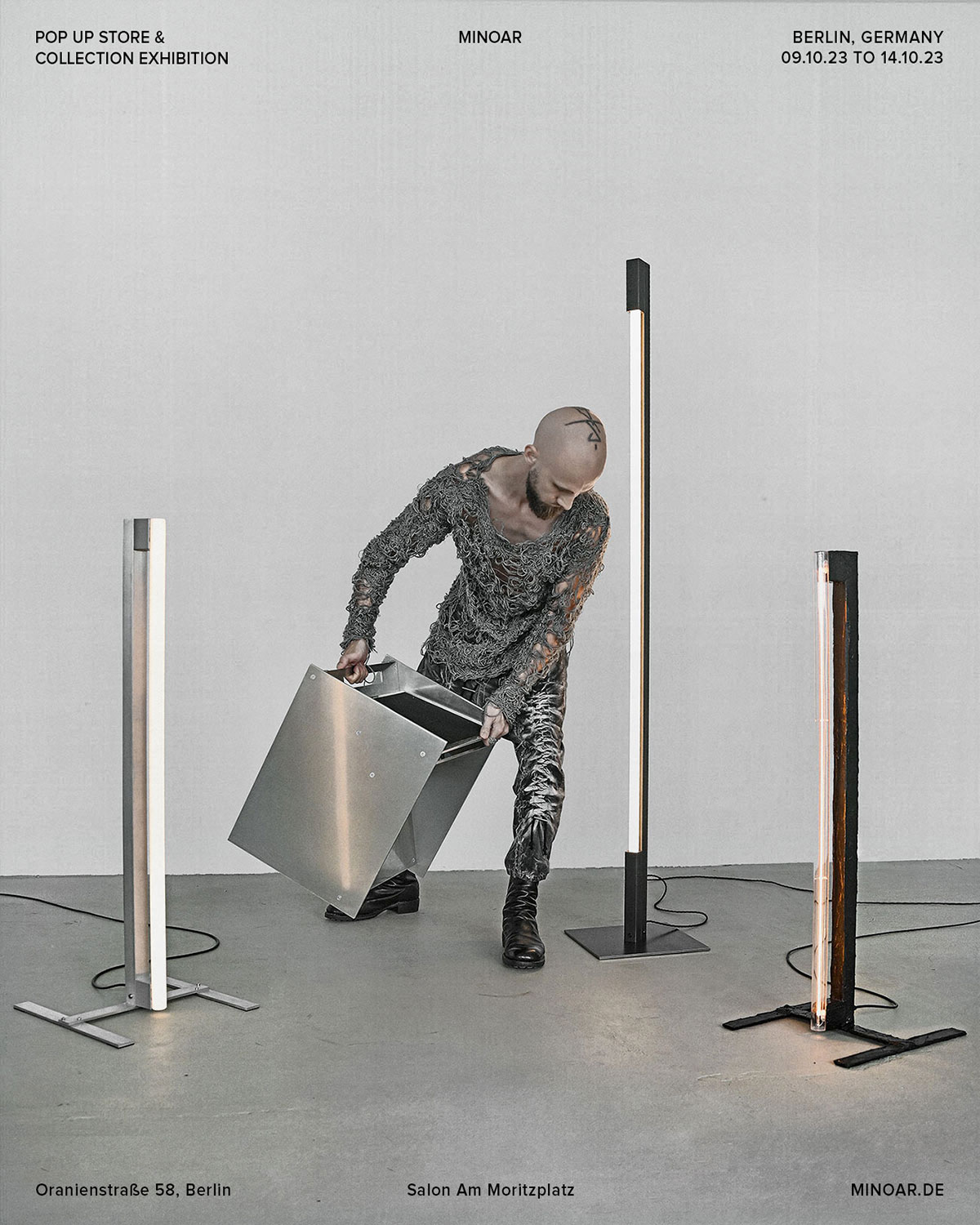 Machine Light creates futuristic lighting that is equally raw and elegant. Inspired by Brutalist architecture and Bauhaus designers, Machine Light combines metal structures with exposed tube bulbs to create a new form of lighting that integrates with many interior styles.

Machine Light specialises in producing limited edition pieces for domestic settings, and bespoke installations for commercial spaces. Clients include fashion stores Darklands and Darklands-X. All lights are made by hand in Berlin.
Jakub Kubica is a Berlin-based multidisciplinary artist, born in Slovakia, who specialises in using natural materials such as stone combined with sterile metals. One of the key intersections in Kubica's work is the blend between art and design, particularly evident in his furniture pieces.

Through his art, Kubica explores the fragility of our environment and the potential loss of it with a series called "Please do not hesitate to contact me", which was exhibited during Berlin Art Week at Wilhelm Halle as one of the 2021 Berlin Masters finalists.
LOCATION: SALON AM MORITZPLATZ
Oranienstraße 58, 10969 Berlin

OPENING HOURS:
MONDAY / OCT 9 – 5PM-8PM CET – OFFICIAL OPENING
TUESDAY / OCT 10 – 11AM-8PM CET
WEDNESDAY / OCT 11 – 11AM-8PM CET
THURSDAY / OCT 12 – 11AM-8PM CET
FRIDAY / OCT 11 – AM-8PM CET
SATURDAY / OCT 14 – 11AM-8PM CET
*SIGNATURE MINOAR GIFTS FOR THE FIRST 44 VISITORS
*CARD PAYMENTS ACCEPTED