AW22 / Embracing winter with the Leather Diagonal Zip Winter Jacket
This newly introduced leather, fully insulated jacket is a single addition and version of the 'Spiral' menswear series Diagonal Zip Winter Segment Jacket. Crafted in 100% natural lambskin leather with a subtle variety of leather grain textures throughout, quilted and fully lined. With its main concept to provide further warmth and protection in one overall snug fit through deconstructed, asymmetrical and linear design. Featuring a soft, high raised wadded collar with enough room around the neck area for additional layering underneath. This jacket is fully lined in 100% cotton with subtle satin finish for smoother wear. The entire lining is quilted in asymmetric, geometric tonal stitching. The front asymmetric zip opening features a durable YKK 2-way zipper and two front vertical zip pockets.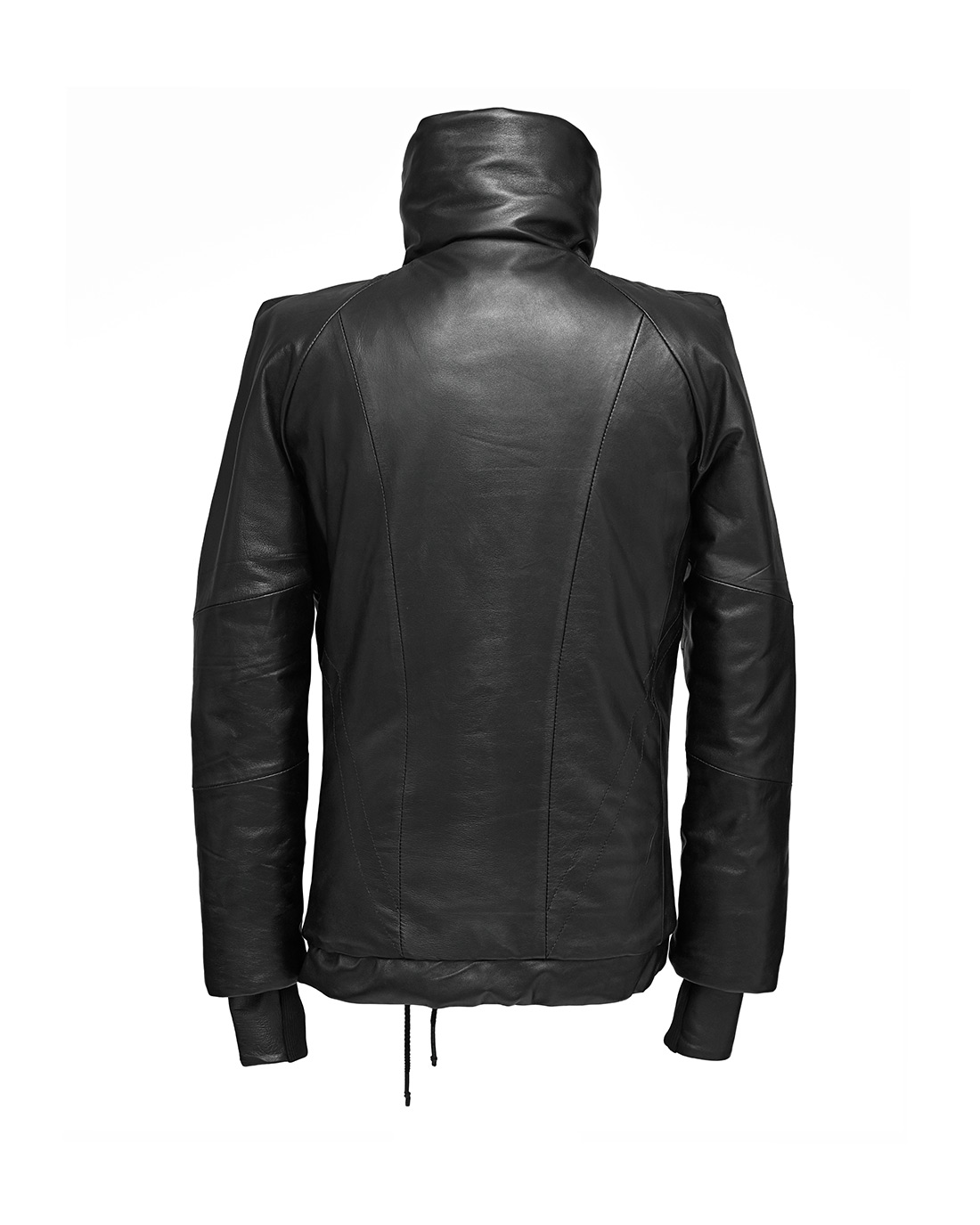 Blending a discrete silhouette feel of invincibility with a dark, mysteriously romantic presence was a hidden design note during the creation of this garment. The outcome is the result of function and comfort-focused technical approach for the daily wear during the colder months. Raglan shaped sleeves are finished with internal cuffs attached to the inner part of the garment with thumb openings for additional wrist protection. The cuffs are cut and crafted from leather and stretch rib knit fabric. These sleeve cuffs provide highly needed aesthetic-driven character to the design and in the same time the armor-like sensation during wear.
Through numerous details driven out of pure concept and derived from Minoár's manifesto, this item is close to being complete. Details incorporated in functional areas such as the black cotton bottom hem drawstring features the steel cut hexagonal shape puller. The very same steel in same thickness is also presented as a functional puller on the inside together with the woven etiquette attached to the quilted lining. A final touch for the desired silhouette are subtle edges at the top, outer shoulder area where the sleeve pattern creates an angled, boxed geometry as a definite statement.
€

932

(Tax & duty included)

€

925

(Tax & duty included)